The most important ingredient for fitness success is consistency.
If you have big fitness goals and want to live a healthier life, then consistency is the name of the game.
For decades, researchers have debated what the best workout is for health, fitness, and results. Is it strength training, cardio, yoga, cycling?
The answer is the one that keeps you consistent.
Consistency is what moves the needle. It keeps you focused on your goals. It allows you to make daily, weekly, and monthly progress. This is the very key to incredible change and results.
Imagine going from working out once in a while to a few times per week.
Imagine never having to start and stop again.
And imagine making exercise a normal part of you life.
How great would you feel?
Easier said than done, right? This is true when you do it alone.
Did you know the average do-it-yourself gym goer, like those that belong to Planet Fitness go to the gym less than 1x/week?
As we know, if you want to live a healthier life and reach your goals, exercising less than 1x/week is not going to cut it.
When asked why they weren't able to stay consistent, the top 3 reasons were:
They had no guidance
They were bored
They were intimidated
Here at DSC, we make it incredibly easy for our members to both get started and stay consistent.
Before joining DSC, some of our biggest transformations spent the better part of their lives trying to be consistent with their workouts.
They would explain their previous fitness experience like:
"I never knew what to do"
"It was so boring"
"There was no one their to guide or motivate me"
"I never saw results"
As you can imagine, this led to them showing up less and less, before ultimately quitting.
We believe there is a better way.
The average DSC member member attends DSC 3x/week.
Like many, most of our members spent their entire life trying to get into a consistent workout routine prior to joining DSC. Then they join DSC and everything changes. Fitness becomes a normal part of their life and for the first time they are consistent, seeing incredible progress, and having FUN!
Are you ready to improve your consistency?
Here are 4 reasons why you're inconsistent with your workouts and what to do instead.
1| You Have No Workout Structure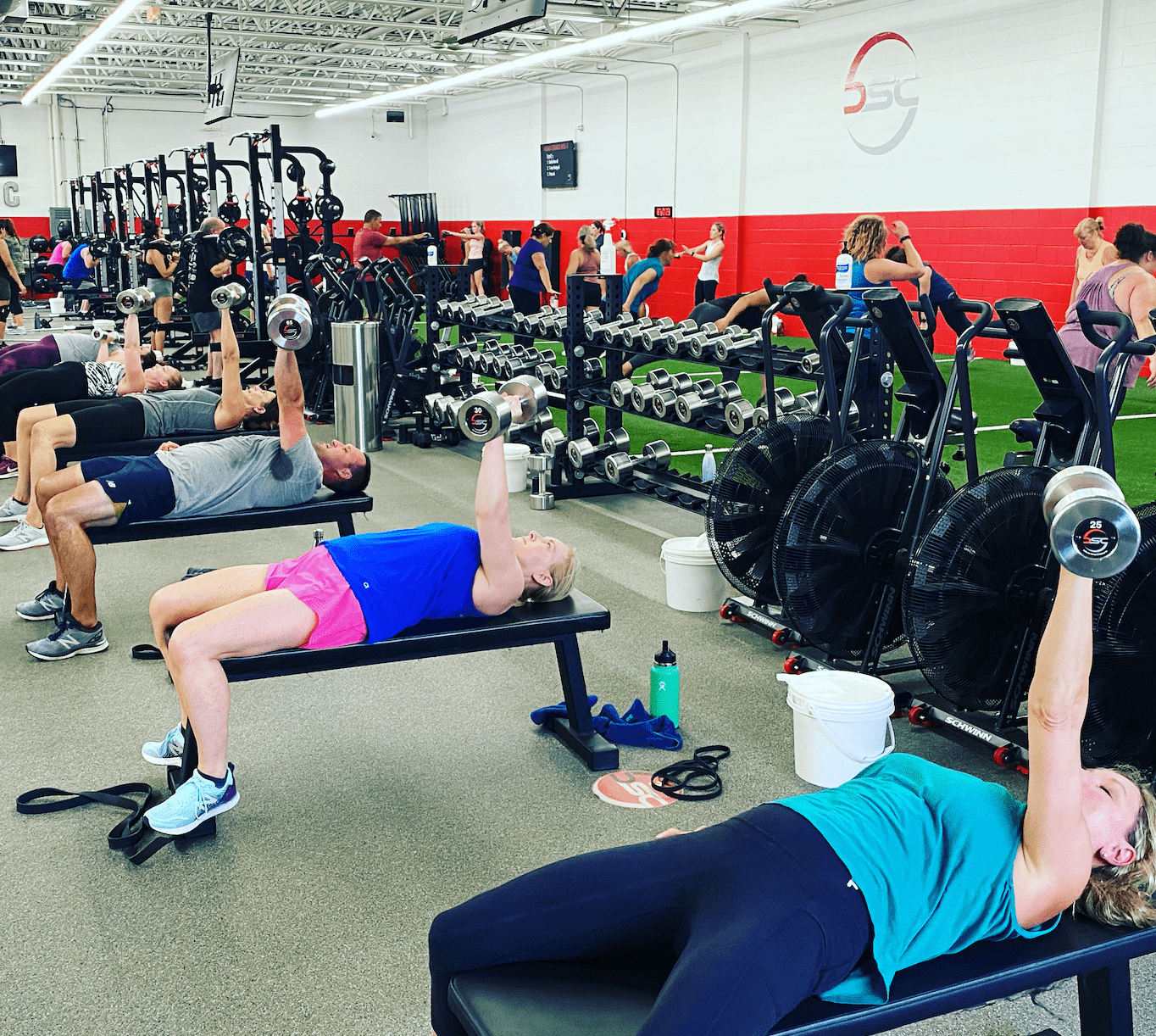 First, here's the typical do-it-yourself gym experience:
You walk in, sign-up, and someone shows you around.
"Here's the locker rooms, there's the cardio, equipment, over there is the strength equipment. Ok, have at it!"
You then walk around unsure of what to do. What exercises should you do? In what order? How do you know if you're doing them correctly or safely? How do you modify for your bad knee?
So you stick to what you know and hop on the treadmill, bike, or elliptical, or bike for 30 minutes and wish to yourself the entire time that it was over.
This lack of structure leaves you frustrated, confused, and bored. Willpower runs out and your motivation drops. Then you simply stop going. To top it off, no-one even notices your absence.
Secondly, this gym experience creates no structure to your weekly fitness schedule.
You go only when it's convenient and this makes it incredibly easy to start skipping your workouts.
Research shows you can increase your workout consistency by 80% by scheduling your workouts each week just like a meeting or appointment. This includes putting in your calendar exactly when and where each workout will take place. Here at DSC, our members schedule their workouts in advance each week. This is a major driver to their consistency.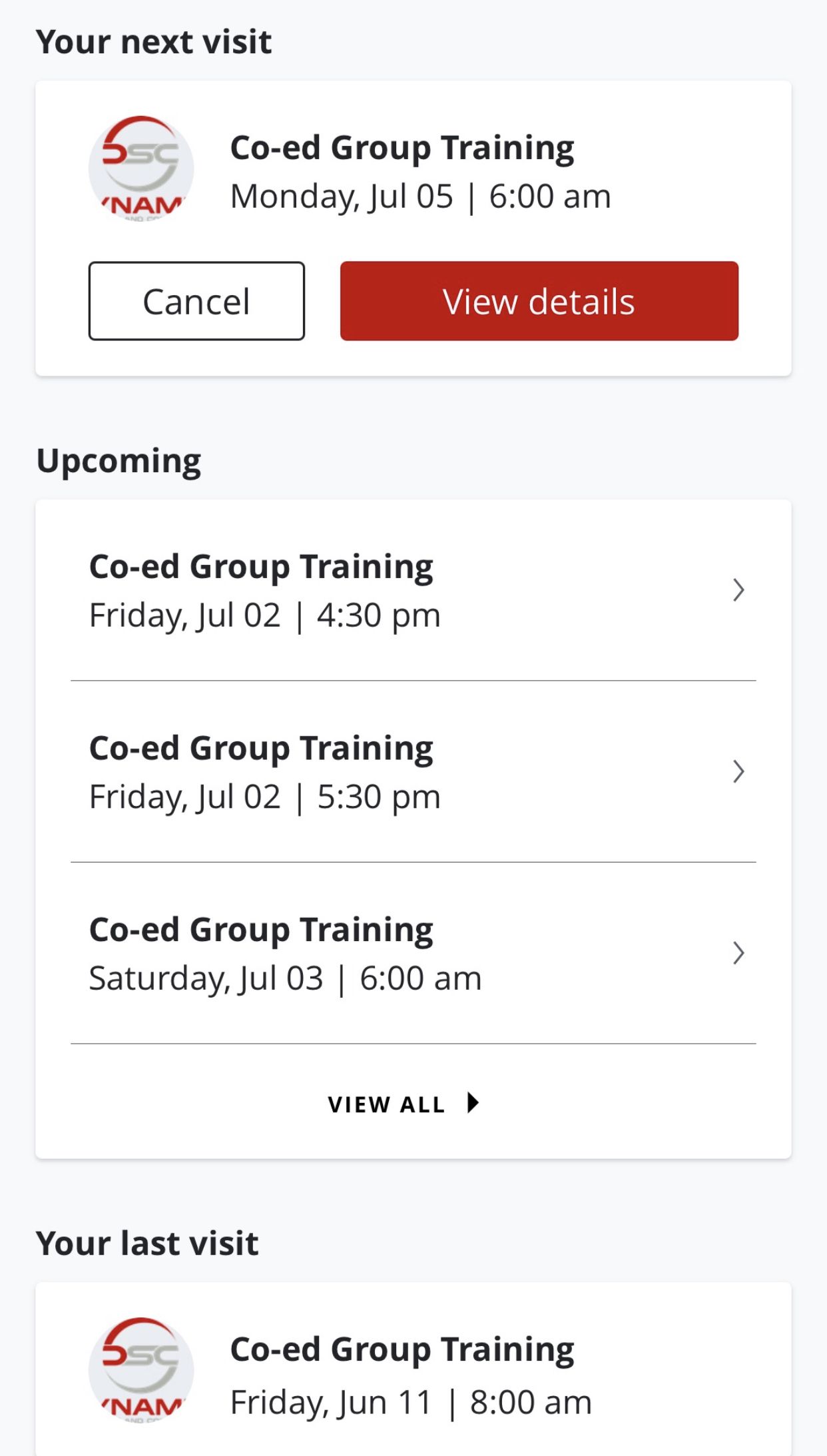 Here at DSC, our mission is to create a fitness environment that removes every ounce of friction between you and fitness consistency. Say good-bye to fitness frustration and hello to workout structure and guidance.
Instead of doing it on your own, when you enter DSC for your class, everything is ready for you. Your equipment is fully cleaned, prepped, and ready. Your workouts, including every exercise, are ready. And our friendly coaches are ready to guide you through every step of your workout. We do the thinking for you!
2| You Have No Accountability
In the typical gym or at-home fitness experience, you're just a number.
If you show-up, great. If not, does anyone care?
This lack of accountability is a major driver of inconsistency. There's no pull from any outside force to keep you on track and getting to your workouts.
Here at DSC, accountability is the name of the game for helping our members stay consistent.
First, our group atmosphere keeps you coming back for more. There is certainly strength in numbers. And the research agrees. One study found that 95% of people who joined a group weight loss program finished the program compared to 70% of people who did it alone. The group atmosphere creates an incredible amount of community, camaraderie, and fun between you and the other members leading to a massive increase in consistency.
You also build an incredible connection and relationship with our coaches who support and guide you through every workout.
As humans, we are designed to be connected with other people. Research has shown, social connection improves health, happiness, and longevity compared to isolation.
So why workout alone?
Group fitness members are less likely to skip workouts. Period.
Here's what our members are saying about what keeps them accountable and consistent:
"What keeps me consistent is the DSC Family of awesome coaches and workout buddies that have become friends!" – Michelle
"What keeps me consistent is the most enthusiastic, knowledgeable, and helpful coaches ever. Working out with great people and developing relationships. The whole experience is amazing and that's why I consistently go!" – Donna
"What keeps me consistent is the positive environment and the coaches' drive for us all to succeed!" – Carla
3| You Aren't Seeing Progress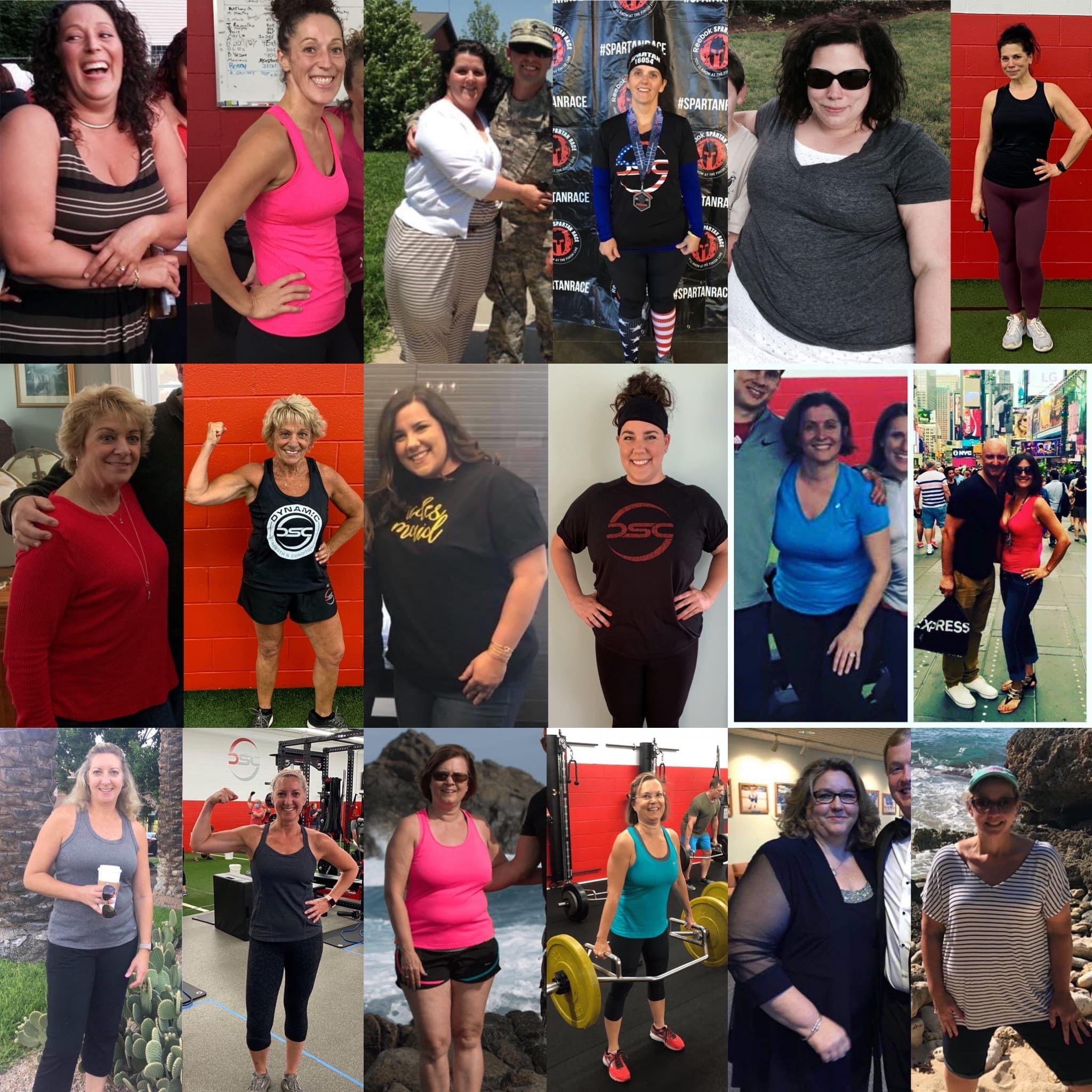 "Progress is the key to happiness." – Tony Robbins
When you join a gym or fitness program, one of the key ingredients to consistency is seeing progress or improvements. This feeling of improvement keeps you excited. It keeps you motivated. It makes you look forward to the next workout. It keeps you having fun. These all add up to a huge spike in consistency.
The problem is, without workout structure and knowing how to track your progress, it's easy to feel like you're spinning your wheels. Frustration kicks in, your consistency drops, and you quit.
One of two things happened:
1. You were in-fact spinning your wheels: This is easy to do by completing the same old routine at the same pace or intensity. Your body becomes adapted to the training and lack of variety and you plateau.
2. You were making progress but you didn't track it or know how to track it: This is common as many of us either don't track anything or only look to tracking our progress on the scale. If our weight doesn't change after a week or two, we think our workouts aren't working, we get frustrated, and quit. But what if you were making progress?
Instead of focusing just on the scale or not tracking at all, track your progress with:
How your clothes fit
Progress photos
Your sleep quality
Your daily energy
Your workout consistency
Improvements to your strength and stamina
Here's what DSC members are saying about progress and consistency:
"Seeing progress each week makes coming back to DSC each week easy!" – Kim
"The progress I make each week is addicting!" – Brian
"DSC is designed to teach you and then build on your progress. I feel like I can learn proper form and next week increase a little more and more to increase my strength. I also love that the coaches pay attention and tell me I can do more. It makes me want to go each class and not miss out on building my strength!" – Jen
4| You Aren't Having Fun
With so many people starting and quitting their workout routine or struggling to stay consistent, the fitness industry is broken.
We knew something needed to change.
We knew that if we just offered the same old gym experience, we would be feeding into the fitness statistics and not changing it.
There are many reasons why people quit working out or can't seem to stay consistent.
One major reason is that people simply don't enjoy it.
Yes, you can actually enjoy working out!
Who wants to hop on the treadmill, bike, or elliptical, or bike for 30 minutes and wish to yourself the entire time that it was over?
We get it…that is BORING! Who in their right mind wants to suffer through that 3-5x/week for an hour? Especially if you have some kind of old injury like knee or low-back pain! As we talked about earlier, willpower can only last so long.
What we have found is very simple.
In order to be consistent with your workouts (and in turn see fantastic results) you need to enjoy it!
It needs to be something you look forward to, not something you dread.
Instead of looking at exercise as a chore or something you "need" to do, find the mode of exercise you enjoy.
How do you know? Spend some time experimenting. Try strength training. Try a group class.
Here at DSC we keep our workouts fun by:
1. Keeping your workouts fresh by adding variety with new exercises and equipment
2. Providing a fun, high-energy atmosphere
3. Providing you with the most friendly and positive coaches
4. Providing you with a community of people just like you
If you're ready to be consistent with your workouts, don't do it alone!
Join our 30-Day Jumpstart Program starts August 7th!
This program is specifically designed to get your health and fitness routine started!
Our program includes:
1. Unlimited workouts (perfect for all levels)
2. Nutritional guidance, recipes, meal plans, and more!
3. Amazing community!
30-Days of support, guidance, and RESULTS!
Click below to get started! ⬇️