About
Dynamic Strength and Conditioning
Our team of fitness and nutrition professionals are invested in your health. We make every decision with our members' well-being in mind. Achieve your goals with us!
01
Daria Snow-Hayward
Owner/Coach
Daria is the owner/operator and Strength and Conditioning Coach at Dynamic Strength and Conditioning. Daria completed her Bachelor of Science in Nursing at UMass Lowell. Daria is an Air Force Veteran and has spent most of her career as a critical care Registered Nurse. Daria has been an athlete her entire life with some of her favorite sports being field hockey, basketball, softball, hiking, running, strength training, road cycling, horse riding and jumping, and triathlons. Daria is a proud Mom to Zoë and a dog mom to Bailey!
02
Chris Martin
performance coach/Director of Gym Operations
Chris obtained a Bachelor of Science degree from Southern New Hampshire University, and is also a Certified Kettlebell Trainer-IKFF. His long list of continuing education includes completion of courses such as Steve Maxwell Bodyweight Training for the Everyday Client, Perform Better 3-Day Summit, TPS/Chad Wesley Smith Juggernaut for Football, Ultimate Back Fitness and Performance with Dr. Stu McGill, and Boston Sports Medicine & Performance Group 2-Day Seminar. At Dynamic Strength and Conditioning, Chris serves clients as a Coach. He organizes large personal training groups in preparation for and during training, which includes breathing, mobility and dynamic warm-up drills. Chris excels at demonstrating proper techniques to clients through visual and audible cues, and utilizes progressive, regressive, or modified techniques according to the unique needs of each client.
03
Delaine Kelly
performance coach/Director of onboarding and social media
Delaine graduated from the University of New Hampshire with a BS in Exercise Science, minoring in Psychology. While at UNH she worked as a Personal Trainer in the Employee Fitness Program and the Cardiac Rehabilitation Program. She is also a Certified Functional Strength Coach and Pre-Post Natal Coach. She has a special interest in helping moms-to-be develop strength and stay healthy during their pregnancy! As the Director of On-Boarding, Delaine is in charge of getting new members comfortable and into our DSC community. Delaine brings a joyful and positive energy to every class and strives to create the best workout experience possible for all our members!
04
Jake Batchelder
Senior performance Coach/Floor Manager
05
Sarah Plourde
Performance Coach
Sarah earned her undergraduate degree with honors in Exercise Science and a minor in coaching, from Salem State University. Sarah played ice hockey for Salem State as a goalie and had an impressive record. Sarah was in the top 10 for save percentage in her conference. Sarah went on to complete her Master's Degree in Strength and Conditioning with honors from Merrimack College. In addition to being one of Dynamic Strength and Conditioning's amazing Performance Coaches, Sarah is also the Assistant Coach/Strength Coach for River's Female Ice Hockey team. Sarah is a proud dog Mom to her beautiful Beagle, Christoff. In her off time, Sarah loves to camp, hike and snowboard!
06
Ashley Buxton
Director of Nutrition Coaching
Ashley is the Director of Nutrition Coaching at Dynamic Strength and Conditioning. Ashley completed her Bachelor of Science in Nutritional Science and Dietetics at the University of Massachusetts Lowell and took her passion for nutrition a step further and became Precision Nutrition Coaching certified. Ashley has a passion for health and wellness which shines through in her competitive bodybuilding career. Her favorite hobbies include traveling and trying new foods, hiking, and hitting the beach to catch some waves!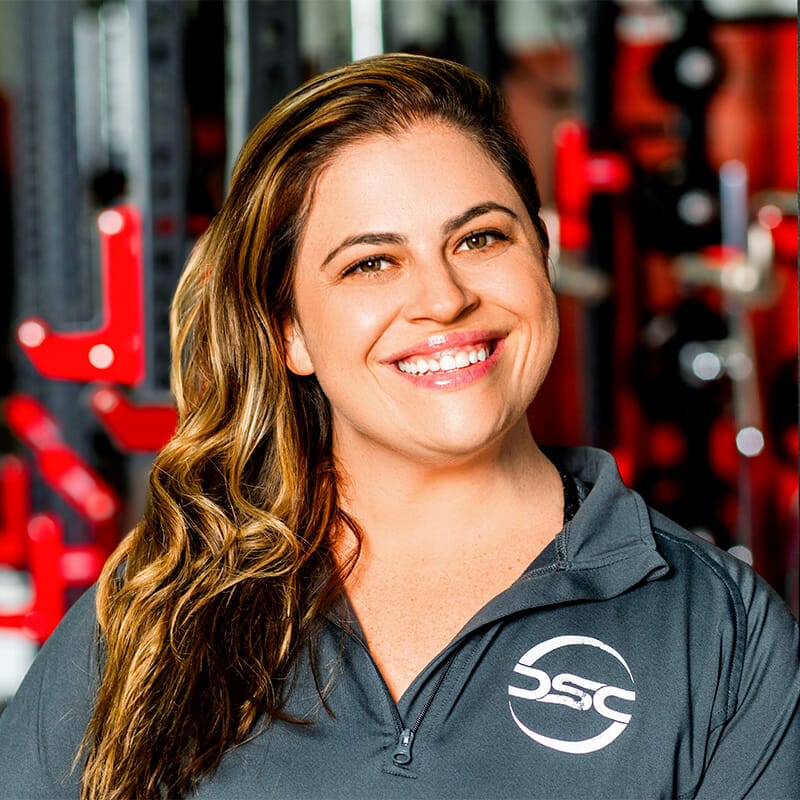 07
Sara Levy
Director of Operations/Sales
Take the first step.
We can't wait to meet you
Chat with a coach at Dynamic Strength and Conditioning to learn more about what program will fit your goals.
Fill out the form below to get started
Take the first step towards getting the results that you want
Free Intro